Your guide to building a $100m RIA
These growth strategies will help you scale your practice rapidly.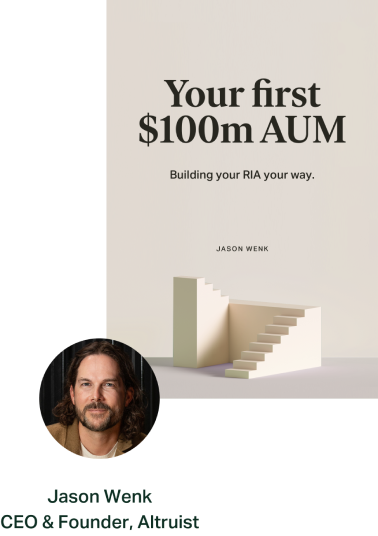 Here's how to become the master of your niche with messaging that converts.
1. Invest in well-written copy
In order to attract the right audience, you need the right message. That means investing the time, resources, and potentially the marketing expertise of someone who can help convey the right actions you want your audience to take. From headlines helping qualify your visitors to powerful call-to-actions converting them to leads, with the right messaging, your website can act as a magnet and pull in potential clients.
2. Keep your website visitors engaged
Just having good copy on your website isn't enough to keep your visitors engaged. A good way to show your expertise and pull your visitors further into your site is to provide additional value in the form of content. This could look like podcast episodes, blog posts, or industry reports. For example, Anjali hosts Money Checkup podcast, a semi-monthly checkup that discusses the many facets of financial well-being. She adds recent podcast episodes to the home page on her website as additional touch points for her website visitors.
3. Communicate effectively
Clear and concise copy communicating your value in an interesting and engaging way entices visitors to convert. This also means heavily editing your content to streamline your offerings. If the action you want your visitors to take is buried in long blocks of text, it's likely to get lost.
4. Have a clear call-to-action
What is the purpose of your website? What do you want your visitors to do? Clear messaging will make your website visitors take the action you want them to take. Do you want your visitors to call you, request a consultation, download a resource, or sign up for something else? Good copy will guide your visitors to take action.
When you're able to clearly define your niche, target your audience, and pair your knowledge with their unique situation, you'll start to see the benefits of focusing your expertise in the form of engagement, conversion, and ultimately, new clients.
About Grow
Grow by Altruist is a show dedicated to bringing business growth advice to advisors, by advisors. I'm your host Dasarte Yarnway and each week I sit down with industry professionals as they share their best ideas around attracting new prospects, building a successful firm, and keeping clients happy. Watch more episodes here.
Disclaimer: The views expressed in this video by the participants are solely their own and do not necessarily reflect the views of Altruist Corp or its subsidiaries. No compensation was provided.