Your guide to building a $100m RIA
These growth strategies will help you scale your practice rapidly.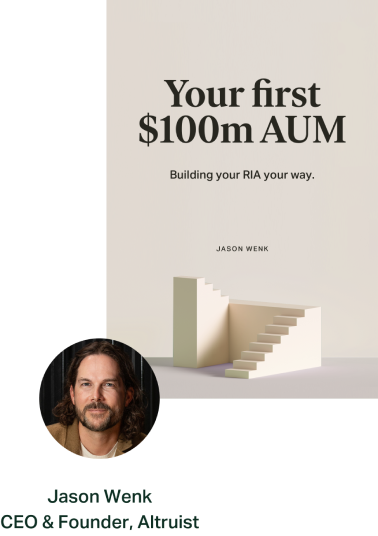 Our podcast's success gave way to two additional segments aligned with our audience: Learn and Grow. Both continue to offer valuable advice and information for free, helping us build trust and stay connected with our clients and prospects.
Finally, your story is unique to you, so don't be afraid to weave yourself into the narrative. The more authentic and personable you can be, the more likely your content will stand out from the competition — resulting in clients you want to serve.
3. Use platforms that are comfortable for you
Now that you have killer content with a cohesive brand story, where should you promote it? Before you hit full throttle on all available platforms, take a step back and consider the following:
Where do you have the most substantial following?
Where do you have the most significant engagement?
What platforms do you spend the most time in and feel most comfortable?
Those are the places you should start first and start small by putting your best foot forward. From there, see what engagement you get and where you might need to optimize based on the key metrics you're monitoring.
Remember that content takes time to grow, so don't be discouraged if you don't see significant results right from the start. The more you produce and share, the more engagement and followers you will start to see. Consistency and quality are key.
And, don't be afraid to ask people you trust to share it. Word of mouth is still one of the best ways to get your message across to potential clients.
As you feel more confident and the platforms you're already on are performing well, you can start to build out on to other platforms if it aligns with your business goals. Don't be tempted to duplicate someone else's efforts based on their success because it may not be best for your brand. Stick to what feels authentic and right for you. Trust yourself.
4. Ask for feedback and be proactive
Once you get a few pieces up and running, ask for feedback from your audience. You can send out a survey, reach out directly, etc. Feedback is a valuable way to know if you're on the right track, and it also gives you a chance to ask your audience about what interests them and what topics they want to learn. That information is invaluable to your content strategy because then you start producing what they want.
Additionally, keep an eye on what's happening in the industry. It's important to know what conversations are taking place and what hot topics are trending. If you can thoughtfully and authentically add to the conversation, or shed some light on what's taking place, do it.
Engaging with hot topics can help you gain more visibility and strengthen your voice in the industry.
5. Have fun and don't overthink it
Creating content shouldn't be overly complicated. It should flow smoothly, and if you're enjoying the creative process, then your creations will be that much better. Don't be afraid to personalize it. Give it your essence because it's ultimately you that your audience will want to connect.
At the end of the day, content is your connection to your audience. By following these five tips, you will set yourself up for success and create content that is meaningful and informative. To learn more about content creation and marketing, check out our Advisor Marketing Playbook.