Your guide to building a $100m RIA
These growth strategies will help you scale your practice rapidly.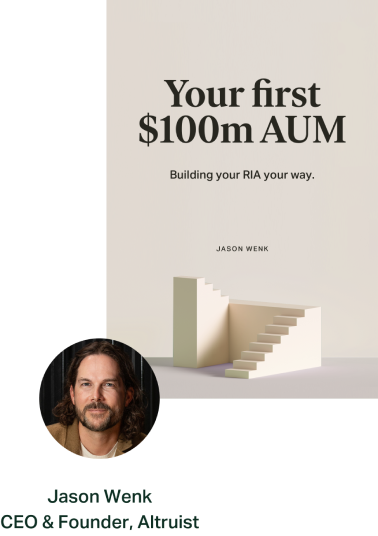 4. Work the plan
"If you don't work the plan, the plan won't work." Consistency is key when it comes to seeing results from your marketing efforts. It's tempting for many financial planners to push a strategy for 30 or 60 days and then jump ship because they're not seeing any additional conversions or leads come through. But immediate ROI is hardly attainable from most marketing technology.
In order to truly scale your marketing efforts, it's crucial to be consistent in your delivery and execution. That doesn't mean you have to post on your social media channels every day or run a weekly webinar, but it means you need to figure out what works for you (and your audience) and then stick to those tactics.
For example, if you send out a monthly eNewletter, deliver it on the same date every month and with the same banner, subject, or theme. Sending out routine announcements like that can prep your audience to anticipate, and even look forward to, your next piece of content.
Always be tracking and improving
As financial planners, trending, analyzing, and making decisions is part of our day-to-day job. How much of that type of analysis bleeds into our marketing strategy?
For financial firms to see success, having a metric-based marketing plan in place that can track data will allow you to do so.
For example, pick a handful of metrics to measure on a monthly basis that show growth on the specific channels and tools that you identified in your unique marketing mix. Over time, you'll be able to clearly see which channels can be a catalyst for marketing or relationship building.
Let's say you're focusing on brand building tactics and would like to see an increase in website traffic. The obvious metric to track is website visitors, but in order to measure progress on your marketing channels, you want to dig a bit deeper. How many website conversions are happening on Facebook ads? Which paid ads are bringing in the most visitors? Take a look at the individual tools you're using and you'll start to see that success leaves fingerprints when you're doing something right.
With the surge of FinTech apps and more secure mobile capabilities, many forward-thinking advisors are starting to implement innovative ways to acquire clients. In fact, many of the most successful financial firms are combining traditional marketing strategies, like print ads and direct mail, with digital acquisition channels, like email nurture campaigns, to boost their growth with an offline and online approach.
To learn more about the Allison, Alex and Seven Group, visit their website.
About Grow
Grow by Altruist is a show dedicated to bringing business growth advice to advisors, by advisors. I'm your host Dasarte Yarnway and each week I sit down with industry professionals as they share their best ideas around attracting new prospects, building a successful firm, and keeping clients happy. Watch more episodes here.