Your guide to building a $100m RIA
These growth strategies will help you scale your practice rapidly.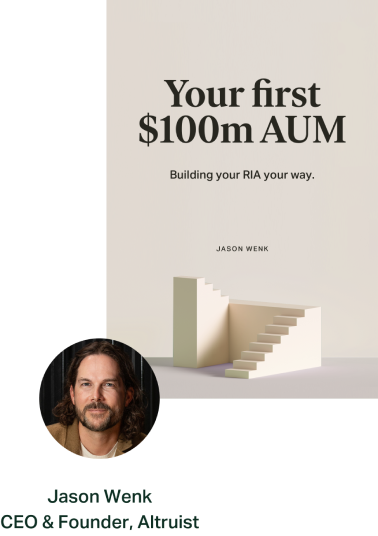 Enter podcasting. He was able to communicate with a mass number of people (in a short amount of time) in a way that felt like he was having many one-on-one conversations. With his successful podcast, Mike's been able to gain additional exposure as a financial expert, engage with prospective clients, and even bring on new clients. Now he encourages fellow financial advisors to use their voice — via telephone, video, online conferencing, and podcasts — to their niche clientele.
So how can financial planners get started with podcasting?
One of the best places to begin is to figure out what topics are important to your ideal client profile. Instead of covering general industry themes and trends, it's best to drill down into what matters to your clients and create content that specifically speaks to them. Producing this type of content will also enable potential clients to feel like they know who you are and your unique approach to financial planning.
Once you nail down a topic, the next step is to layout your episode format. Will you be conducting interviews? Will you be hosting a panel, speaking to a guest, or doing a monologue? What will be the flow for each episode?
For Mike's podcast, he limits his episodes to 15 minutes, which means he needs to stay on track. His format for each episode is the following:
Topic: Identify a unique theme for the episode


Why: Explain the importance of it to the listener, specifically how it impacts them


Proof: Share real-world examples that speak to the topic


What next: Action steps for the listener to take
By having a formulaic approach to developing content, you're less likely to get overwhelmed and fatigued with a new strategy. More so, this will keep you on track, on time, and on topic, as you speak to your audience. Best of all, this formula to developing podcast episodes can also be applied to various forms of content such as video, blogs, and more.
So, after you've defined what your podcast is about and how it will run — what's next?
Just get started! You don't need a large investment or fancy equipment, all you need is a mic. Even if it's just using the voice memo app on your phone, start recording and then figure it out along the way. It will morph and change from the first session, but once you start, you'll naturally find your own flow, what you want to talk about, and how you want to share it.
About Grow
Grow by Altruist is a show dedicated to bringing business growth advice to advisors, by advisors. I'm your host Dasarte Yarnway and each week I sit down with industry professionals as they share their best ideas around attracting new prospects, building a successful firm, and keeping clients happy. Watch more episodes here.
Disclaimer: The views expressed in this video by the participants are solely their own and do not necessarily reflect the views of Altruist Corp or its subsidiaries. No compensation was provided.