Get expert advice on how to go independent
Let Altruist's COO give you in-depth guidance on forming your own RIA.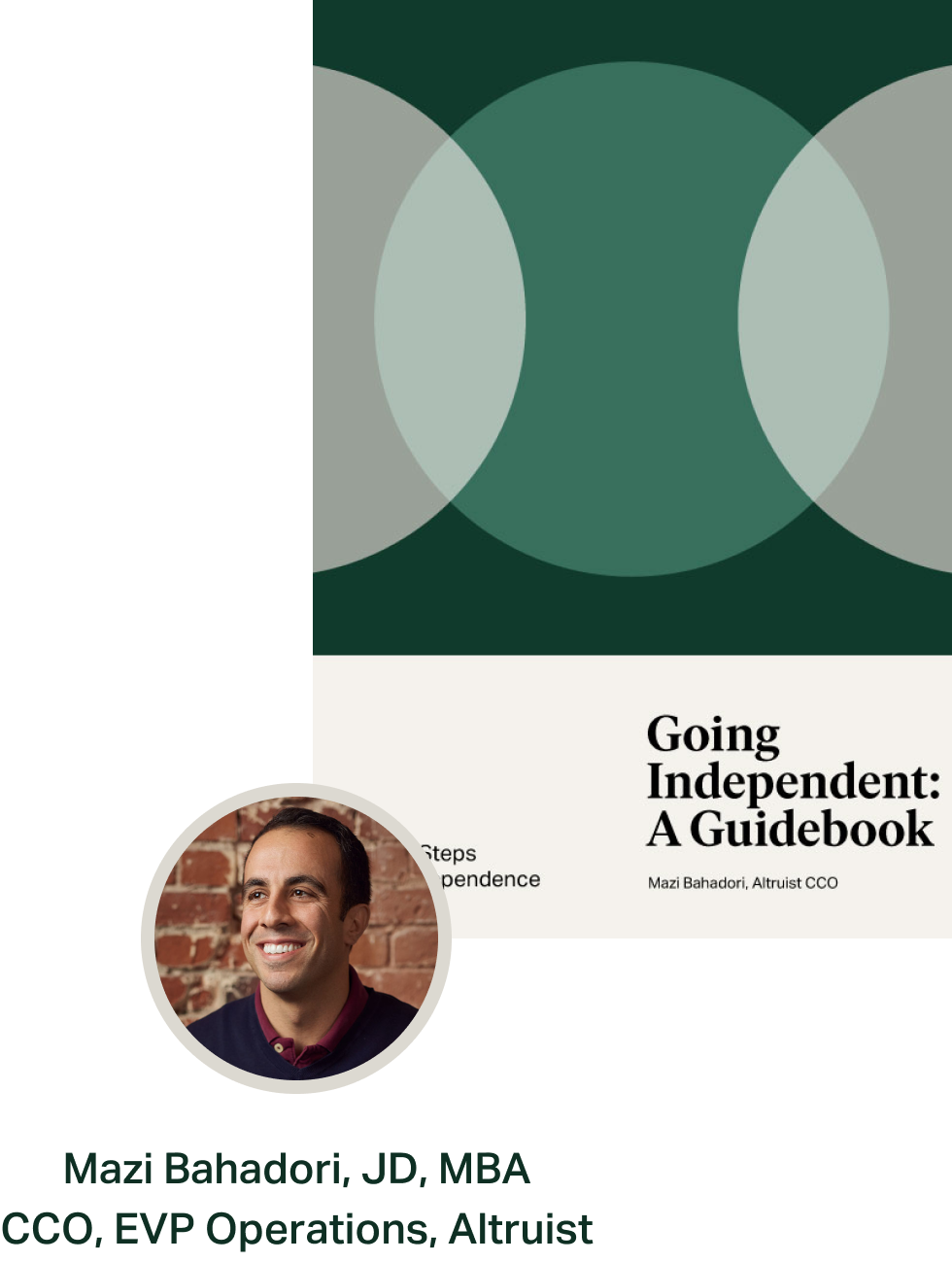 Simplify your tech stack with Altruist
Advisors get a best-in-class software tech stack in a fully integrated platform. Commission-free trading, performance reporting, automatic trade rebalancing, portfolio management tools, e-signature, fee billing, and an elegant client portal allow advisors to keep everything they earn.
Full transparency, we don't currently have proprietary offers for financial planning, CRM, or risk analysis, but we have robust integrations with RightCapital, WealthBox, and Riskalyze.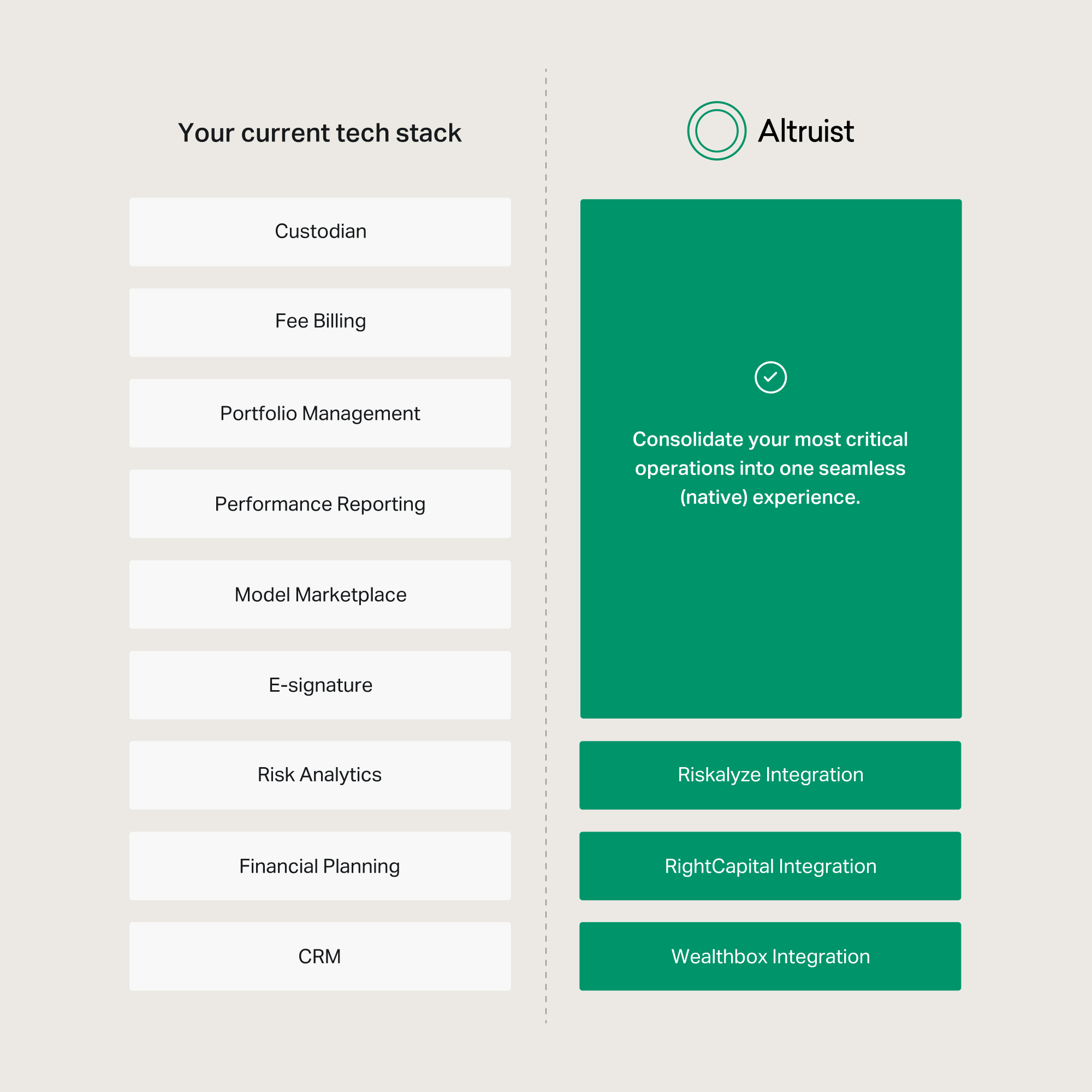 The cost of software is no longer a factor in determining whether to form an RIA. If you'd like to see Altruist in action, you can book a demo by visiting altruist.com/breakaway.

The independent advisor tech stack
In case Altruist is not the right fit for you at this time (it happens), here's a detailed list of why you need each technology for your RIA:
Custodian: Find a brokerage to take custody of your client's assets and provide trade execution and settlement services. Some are commission-free, some aren't, and the technical limitations with most leave you wanting more.
Performance reporting: Be sure to select a vendor that integrates with your custodian to show how an account has performed over a period of time.
Fee billing: Find a software provider that calculates fees you'll assess on your client accounts and allows you to capture those fees without subjecting yourself to the SEC's Custody Rule.
Client portal: Clients need a way to access their accounts, transfer funds, authorize ACATs, and view their holdings.
Trading program: Without an integrated solution, you need a way to identify client holdings, reconcile them with your portfolio strategies and rebalance them accordingly.
Risk analysis program: Find a provider that shows you risk metrics, exposure, and intelligent ways to create the same expected return while minimizing expenses. We recommend Riskalyze.
CRM: While also a highly commoditized service, a quality CRM is crucial to managing an efficient practice. Firms like Wealthbox build specifically for financial advisors, so you're more likely to get the most out of your subscription fee than Salesforce.
Document retention / archiving: RIAs are legally required to retain certain books and records. Your compliance consultant will identify these and (hopefully) recommend a provider like Smarsh, Global Relay, or Box to keep different records.
Financial planning tool: If you're proficient, a simple tool like Google Sheets or Excel can serve as your primary planning workhouse. If your skills are lacking, several software vendors can help. A vendor like RightCapital provides cash flow analysis, long-term planning, Social Security optimization, and tax-efficient strategies.
Perfecting your tech stack can drastically increase your RIA's success, so make sure you thoroughly choose the best tools for your firm.

Administrative Functions
Office space: Find somewhere to run your practice. And whatever you do, don't fall into the trap of "I must project success and spend a lot on a fancy office." People respond best to authenticity; no client likes to see their fees spent on expensive artwork, furniture, or high-rise views. Keep it sensible and respectable.
Insurance: Purchase a reasonable health insurance policy for yourself (and any employees you might have), and be sure to obtain sufficient Errors and Omissions policy coverage.

Marketing for RIAs
Brand & Design: While this starts with a name and a logo, you'll want to consider how you present your firm carefully. What's your value proposition, and how is it reflected in how you present and talk about your practice? Who's your ideal client, and what motivates them? Figure out these basics before hiring anyone to work on your image. And don't skimp with your brand – this is the foundation of your business, and budget solutions won't provide the level of quality and care your company deserves.
Website: Setting up a website is a highly commoditized business these days. Squarespace, and other services like them, can get you up and running in hours. If it fits within your startup budget, it's always a good idea to hire a professional to help build out your content, including a strong copywriter to vocalize your brand story to connect better with your target audience.
Email: Gmail for Business is easy and inexpensive. Unless you have a preferred email provider, stick with Gmail.
Strategy

: Put pen to paper and articulate your approach to servicing and acquiring new customers. Do you need a social media presence? Do you need an email communications tool? What type of channels do you use to find new clients? There's no shortage of marketing consultants for RIAs that will promise the world to answer these questions. Some can be super helpful in guiding you, but you've probably already been successful in building your business. Hence, it's best to start by thinking critically about what made you successful and how you can repeat that process.
Brand & Design: While this starts with a name and a logo, you'll want to consider how you present your firm carefully. What's your value proposition, and how is it reflected in how you present and talk about your practice? Who's your ideal client, and what motivates them? Figure out these basics before hiring anyone to work on your image. And don't skimp with your brand – this is the foundation of your business, and budget solutions won't provide the level of quality and care your company deserves.



We hope this serves as a useful high-level RIA startup checklist of everything needed when starting your own RIA. As always, our team is always happy to connect with you. Schedule a call now.

And in case you missed it, be sure to catch up on the previous articles in the series: