Your guide to building a $100m RIA
These growth strategies will help you scale your practice rapidly.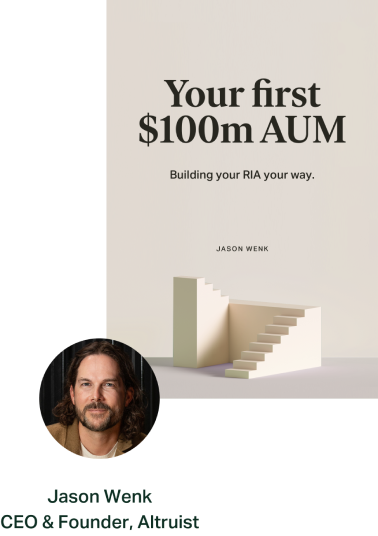 A new catalyst for growth
Already a multi-million dollar firm, Eighth Wonder Investments has thoughtful, ambitious plans to hit triple-digit millions in growth over the next five years.Nathan says that he and Joe want to expand their firm while continuing to "deliver the highest level of customer service" and help more families reach their financial goals through comprehensive financial planning and investment advisor software.
After experiencing a smooth transition to Altriust's all-in-one custodial solution, Nathan found features that support Eighth Wonder Investments' vision for growth in using CRM for investment advisors.
"[Altruist] makes things seamless…and eliminates friction," Nathan reports. "A huge part is the lack of paperwork needed to get things done… onboarding, opening accounts, being able to do digital ACATS."
He adds, "I absolutely love the ease of use, the fact that it's completely digital, [and] has a mobile app."
Nathan says Altruist has "made things easier, simpler, and cleaner" for him and Joe as advisors and for their clients. Aside from the platform being "extremely impressive," Nathan has also found the investment advisor software and the level of customer service to be "absolutely incredible."


Making financial advice accessible
Nathan and Joe believe that everyone deserves quality personalized financial advice, aligning with a central part of Altruist's mission to make financial advice more accessible.
Eighth Wonder Investments serves clients with as little as "$50 to those over $1 million in investable assets" and is "proud to have no account minimums," shares Nathan.
He enjoys "being able to work with a diverse mix of individuals and families" and sees Altruist's opportunity to help expand access to financial advice as a "big thing" for the industry.


Altruist and our affiliates did not pay for this case study, but we do earn revenue from financial advisors who use our platform. This customer review may not represent the experience of others and it isn't a guarantee of results, but we'd love the opportunity to show you firsthand. Some account types may not yet be available, processing times may vary. Some account functions may require signed forms.