Step-by-step advice on forming your RIA
Altruist's COO guides you toward a successful RIA launch.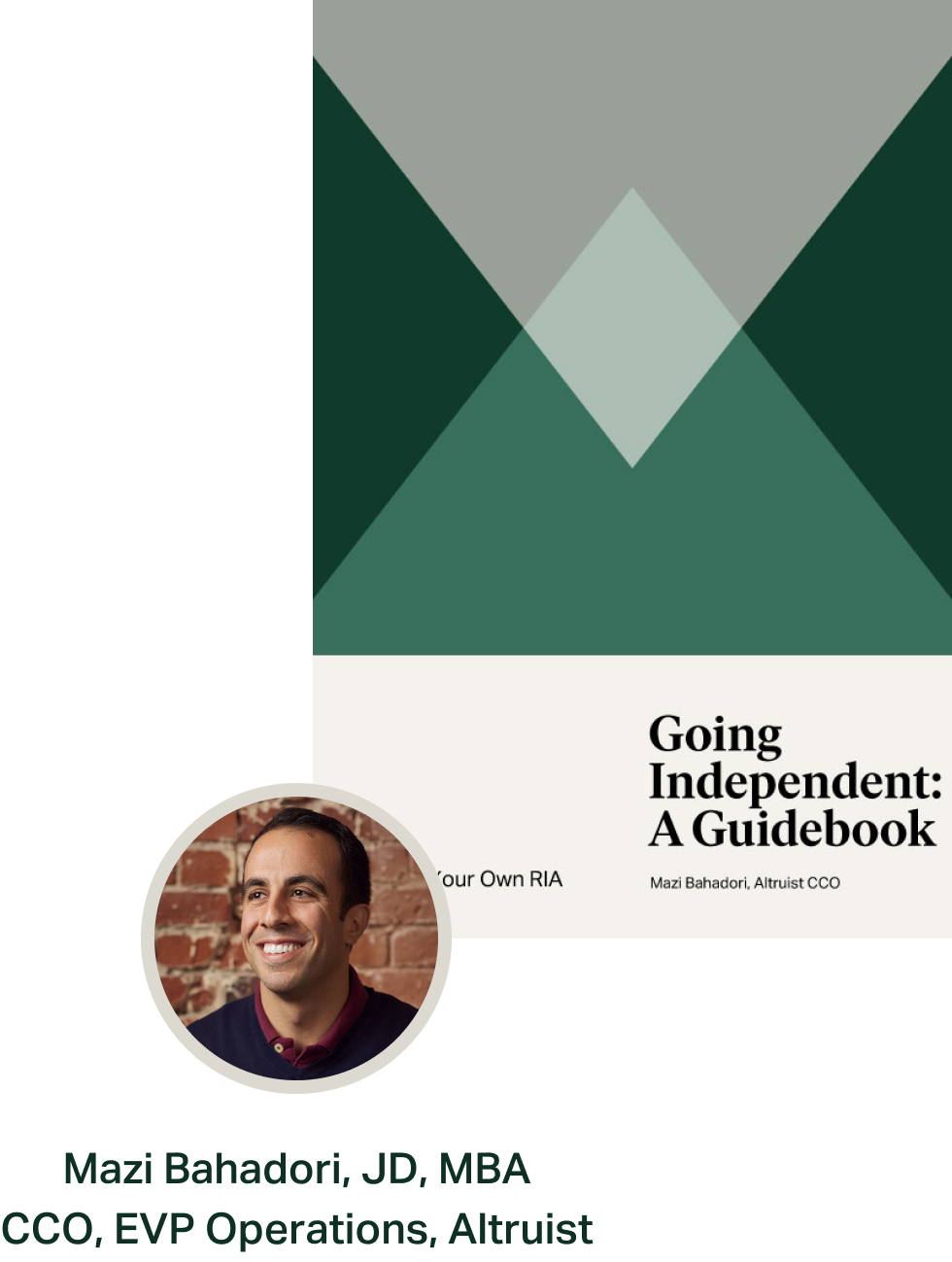 How do you pick a custodian?
Clients will naturally ask the question: why this custodian? They may be used to seeing one of the wirehouse names on their statements, so any change will likely beg the question. Advisors should be prepared to answer thoughtfully, and the best way to do so is by performing comprehensive due diligence upfront. There are several questions advisors should ask a custodian before they agree to put their clients' money in a brokerage account:
Will you be able to efficiently support the type of practice I want to run?
Are there any AUM minimums?
What type of service can I expect?
What additional software do I need to purchase to manage my practice?
Can my clients open and view their accounts on a mobile app?
How much paperwork can I expect to shuffle back and forth with you?
How can I bill my client accounts for my services?
How much does it cost to trade on your platform?
How long does it take to set up model portfolios?
How long will it take me to rebalance my client's portfolios?
How long does it take to transfer securities into my client's accounts?
How do you make money?
How does a client deposit money?
Will you compete with me?
There are no right or wrong answers to these questions. However, whatever the response, it's best to consider the answer with the following three lenses: First, is the response transparent? Second, will this answer save me time or money? Third, will this help me grow my practice?
Picking a custodian is one of the most important decisions an advisor makes. Take the time to get it right. And once the advisor understands the responses to each of these questions, she'll be in a far better position to explain the value of the custodian to the client.
What are red flags for custodians?
When dealing with people's money, the stakes are rarely higher. As a former pilot, I found one of Captain Sullenberger's remarks on the NTSB's rulemaking approach compelling. After he landed the United jet on the Hudson in 2009 he praised emergency landing procedures and put them into context stating: "in aviation, every rule that we have, everything we know, every procedure we use, we know because someone, or often many people, died."
While the world of custody doesn't deal with life or death, it has a major impact on the livelihood of millions of people. Similarly, every rule and procedure custodians follow typically exists because enough people got screwed over by some financial services company at some point in time.
It's best to know the quality of those procedures well before a client puts a single dollar into their brokerage account. Advisors should ask custodians they're considering for the following information:
Best execution reports (SEC Rule 606 Report and Rule 607 Disclosures): Look to see how well the broker executes trades. Where are they routing orders and what rebates are received from the liquidity providers.
Review their FINRA Broker Check report: Focus on any regulatory disclosures, suspensions, fines, or other red flags that indicate a lapse in controls.
Review their information security controls: Ask if they're adhering to industry standards on cybersecurity protocols and when they last performed penetration testing.
Review their business continuity procedures: Understand what happens if they have a disaster event and your client needs to access her money.
Review their privacy and information sharing policies: Learn whether they share your client's information with their affiliates to put them on another company's marketing lists.
Review their insurance policies: SIPC is a must and excess coverage is critical for higher balance accounts.
Traditional custodians are accustomed to doing business in traditional ways. That's not necessarily a bad thing, but it leaves much to be desired in terms of more innovative security measures, more robust technology tools to identify and mitigate risks, and discomfort with the status quo of regulatory fines and enforcement actions. Ultimately, advisors who understand these critical processes and safeguards will help put their clients at ease by trusting that their money is in good hands.
Does the custodian really matter?
Yes and no. A custodian should matter to the RIA, and not the client. If a custodian is doing a great job, the client shouldn't really know much about them. A financial advisor's client should be able to open an account, fund the account, trade the account and learn about the money they've (hopefully) earned in that account with absolute ease. It should be as simple as opening Amazon's app and ordering something that shows up the next day. Customers rarely think about the warehouse or delivery logistics—so why should they care about portfolio rebalancing and anti-money laundering protocols?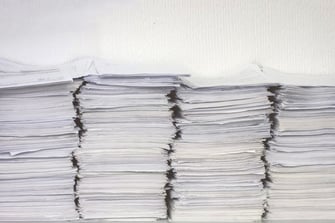 Unfortunately, most custodians don't operate this way. They still require clients to sign paperwork, submit copies of old account statements, and send voided checks if clients want to do basic things like open and fund an account. However, if a custodian is fully digital with an integrated software offering, then it's the engine running in the background that isn't even a thought on the client's mind.
Ultimately, the client shouldn't care about the custodian if the advisor is doing her job correctly. Here's what I mean:
Imagine you need surgery to remove your appendix. The surgeon needs equipment and operating room technicians to help her successfully perform the operation. How many of us would critically examine each piece of equipment and review every technician's background before agreeing to the procedure? Odds are very few of us actually would. The reality is that if we felt confident that the doctor knew how to correctly diagnose our ailment and if we trusted the doctor to do what was in our best interest, we'd agree to the operation without much additional thought.
The same applies to financial advice. If a client believes her financial advisor has correctly understood her needs and will do what's in her best interest, the client probably won't spend much time caring about the tools, vendors, custodians, security types, and strategies the advisor wants to use.
The question advisors should ask themselves is whether a custodian helps them spend more time focusing on what matters most: their clients.
Going Independent
As always, please let us know if you have any questions. And in case you missed it, be sure to catch up on the previous articles in the series: