Your guide to building a $100m RIA
These growth strategies will help you scale your practice rapidly.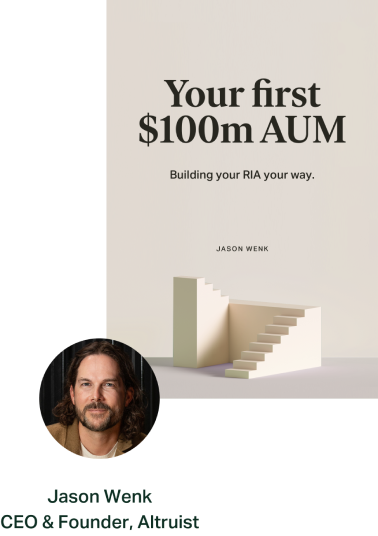 How does content marketing help financial planners scale their business?
In order to become recognized, advisors must build awareness of what your firm represents, what your values are, and how you serve customers. This is how content marketing and brand awareness go hand in hand. Using content marketing as a vehicle to connect and engage with your audience, you'll be able to stay top of mind—even if your audience isn't looking for, ready for, or can't afford your services. By staying top of mind, if their situation changes and they are in need of financial planning, you'll be the first call they make.
Content is a marathon, not a sprint. In fact, you most likely wont see results right away. For example, Luis has been podcasting for a year and has 12,000 downloads, but he's still not seeing an immediate impact. It's a slow trickle, but when you keep investing in yourself and your voice, engagement will come.
Content marketing is hands down the best way to improve your search engine optimization (SEO) efforts. What exactly does this mean? SEO allows you to understand how people are searching for and finding information about your financial firm online.
The more you post, the more authority your website builds. When search engines return results for users, algorithms are searching for the most credible and valuable answers. If your website hosts a plethora of content that matches the criteria of the search, you're more likely to come up higher in the results. In fact, according to HubSpot, web traffic is among the top two most-common measurements of success for content marketing strategies. This is why quality and quantity are both equally important.
When you decide to start content marketing, it's a good idea to level-set your expectations. Understanding that it is a long-term investment and being comfortable with the time it will take to see results is huge. By doing this, the pressure to achieve immediate success is off, and you can focus on creating good content for your audience.
To learn more about Luis Rosa, visit Build a Better Financial Future.
About Grow
Grow by Altruist is a show dedicated to bringing business growth advice to advisors, by advisors. I'm your host Dasarte Yarnway and each week I sit down with industry professionals as they share their best ideas around attracting new prospects, building a successful firm, and keeping clients happy. Watch more episodes here.
Disclaimer: The views expressed in this video by the participants are solely their own and do not necessarily reflect the views of Altruist Corp or its subsidiaries. No compensation was provided.