Your guide to building a $100m RIA
These growth strategies will help you scale your practice rapidly.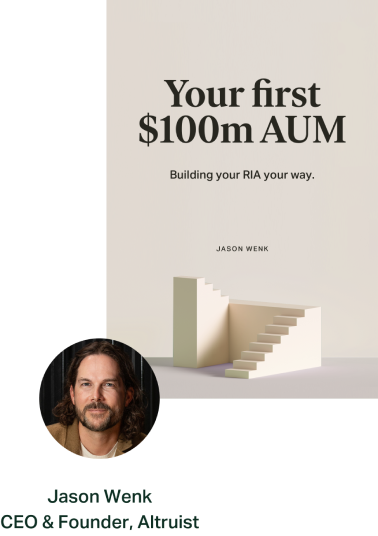 Going independent and rapidly scaling
Keith wanted to be purposeful about how to go independent. "We were going to be a small, scrappy firm with a plan to build more than a lifestyle practice," he says.
After discovering Altruist RIA portfolio management software online, Keith decided the all-in-one custodial solution was the right partner for Kolo Capital's needs because of their shared values, pricing model, and swift onboarding and account opening.
Keith says, "I was expecting [going] independent to be a challenge." But partnering with Altruist "made it very seamless to onboard a client, move money, set up an account, transfer in and out, and link bank accounts. It just was 10% of the work at any of the previous institutions I had been at."
The Kolo Capital team enjoys Altruist's ability to make processes seamless for them and clients, including onboarding and portfolio management by using RIA portfolio management software. This contributes to the firm's growth goals of scaling to $100 million in five years, and clients "love how simple the mobile app is."
In a time of remote work and rapidly changing workplaces, Altruist gave Keith and Kolo Capital a 21st-century experience of going independent.
"If someone wants to start their own firm, the technology for financial advisor is so much better, especially with Altruist," Keith reports. "It's just so much quicker and better. It gives you the freedom to be able to have real conversations with clients on a more frequent basis."




Putting people first
One of the things that inspired Kolo Capital to work with Altruist was the shared value of putting people first. As Keith shares (and says he's heard Altruist's founder and CEO Jason Wenk mention), "Money touches everything that's important in life."
That's a guiding principle in how Altruist supports technology for financial advisors and their clients by helping them have a better experience. And Keith notices: "I love the customer service at Altruist. It is one of my favorite parts."
When Keith needed a true partner, Altruist was there. He even became a fan of chatbots because Altruist has real people on the ready to be a guide. "I was going from a broker-dealer to launching my firm," he says. "It was hard. It was a terrifying moment. Altruist made it very smooth and seamless."
"Personal financial advice isn't going anywhere," says Keith. "As the cost of advice goes down, the impact to clients goes up because we get more time to spend hands-on with [them]. And Altruist is at the bleeding edge of helping advisors have efficient businesses."


Altruist and our affiliates did not pay for this case study, but we do earn revenue from financial advisors who use our platform. This customer review may not represent the experience of others and it isn't a guarantee of results, but we'd love the opportunity to show you firsthand. Some account types may not yet be available, processing times may vary.