Your guide to building a $100m RIA
These growth strategies will help you scale your practice rapidly.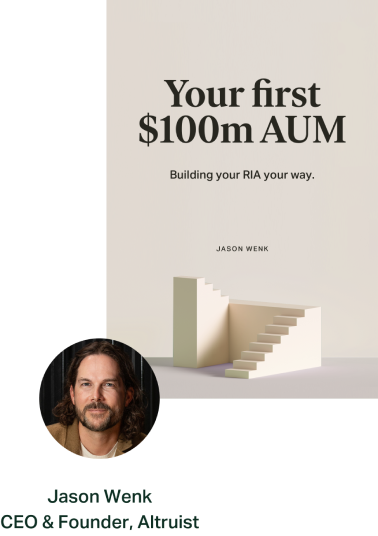 Here's how to get started with building a website that allows you to connect with your visitors.

1. Put yourself in your clients' shoes
Standing out as a financial planner is tough—it's a competitive market and many advisors offer similar services to the same type of client. Try looking at the situation from the perspective of your ideal client type. What challenges do they face? What unique advantages do you have?
For Jared, that meant going to his current clients and asking them what questions they had when they first reached out to him. He then worked backwards to ensure he was proactively answering those questions on his website and offering resources that would help potential clients during their "shopping" stage.


2. Leverage digital tools and expertise
Nowadays, getting a website live can easily be done in an afternoon—but is it going to attract and engage the right visitors? It's crucial to spend time crafting the right messaging and investing in the right platform and details.
For example, Jared hired copywriters to write the copy on his website. With their expertise, he was able to share his unique story in a way that compels readers to stay on the site and perform the next desired action.
In addition to this, he uses website tools like a sticky nav bar that follows you down the page as you scroll. This menu also resizes and adjusts to your browser size. Website functionality like this is keeps visitors engaged and moving from page to page.


3. Connect on a human level
In the financial services industry, it can be easy to get caught up in the lingo we use day in and day out. Your website can serve as a great tool to communicate with potential clients to figure out exactly what the problem is that they are trying to solve. And then, an opportunity to give a real, tactical, and actual answer to their challenge.
For example, instead of using blanket statements like "comprehensive financial planning," share your services in a step-by-step manner that helps visitors understand what it is you offer.
Your website can also influence visitors by offering social proof and client-centric content, like case studies and testimonials. Simply put, when you create a storefront website that is user-friendly and easy to navigate, you boost engagement, client loyalty, and website conversions.
Disclaimer: The views expressed in this video by the participants are solely their own and do not necessarily reflect the views of Altruist Corp or its subsidiaries. No compensation was provided.