Your guide to building a $100m RIA
These growth strategies will help you scale your practice rapidly.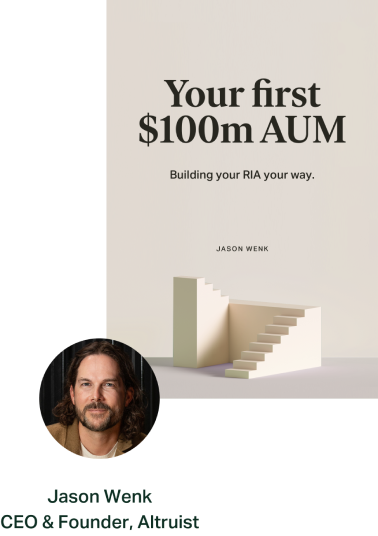 Nothing in this communication should be construed as an offer, recommendation, or solicitation to buy or sell any security. Additionally, Altruist or its affiliates do not provide tax advice and investors are encouraged to consult with their personal tax advisors.

Altruist LLC and its affiliates (together, "Altruist") do not render investment advice to retail clients, rather Altruist makes available certain model portfolios for independent RIAs' use in managing their retail investment clients' assets. RIAs are responsible for suitability of all transactions in and decisions regarding client accounts, and must maintain discretion over client accounts which are subscribed to Model Marketplace model portfolios. For more information on Altruist's Model Marketplace please see the Form ADV Part 2A, Model Marketplace Agreement and Model Marketplace Fee Schedule on altruist.com/legal.