Your guide to building a $100m RIA
These growth strategies will help you scale your practice rapidly.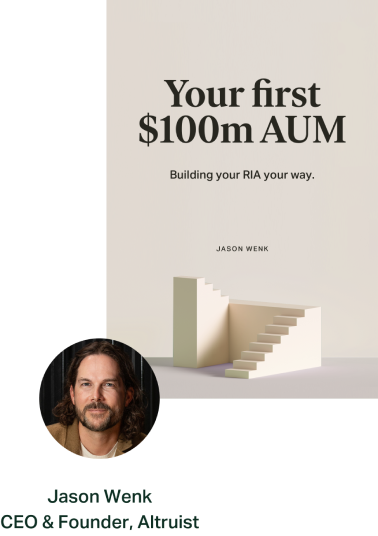 But it hasn't all been high-profile clients and shiny awards. Steve remembers times when he couldn't make payroll and couldn't afford to pay himself. At Advice Period, the tech-driven RIA he started in 2014, he didn't take home a check for three years, a challenging period that paid off when Advice Period started racking up commendations and clientele.
His advice for those starting out is straightforward: Be true to yourself and find your voice. It's a fundamental credo that can be challenging for younger advisors to embrace, but Steve figured out a long time ago that if you don't believe in yourself, then neither will your clients.
He points to a moment early in his career where he found himself nervous and self-conscious about pitching to high-profile clients. He was, in his words, "petrified of screwing up." But when he realized that he was the expert in the room, that pressure was lifted. You have to be confident that you know what you're doing while retaining the humility to say, "I don't know, but I'll find out."
It's a simple secret, but that philosophy has followed Steve throughout his career, even as he's changed his perspectives on different investment vehicles and the state of the industry. Conviction is one of the most important tools an advisor can have, and it's helped him build, grow, and prosper over the course of his career.
His newest venture, Vanilla, is putting that philosophy to practice in a new industry: estate planning. It's a corner of advisory services that has lagged behind as the industry has embraced technology platforms, and Steve's successful track record as an entrepreneur bodes well for the 2-year-old startup. He wants to equip advisors with the same set of tools for estate planning as they have for other aspects of wealth management, unlocking what he's called the "last frontier of advisor technology."
Steve's career is a story of adaptation and perseverance, and the bonds he's built with his clients mean that they trust him even when, as he says, he "changed religions" on investment strategies. Being true to yourself and speaking honestly about evolving perspectives is something he attempts to pass on to those he's mentoring. The hour-long jogs with mentors are (thankfully) in the rearview mirror, but the decades-long dedication to learning, growing, and thriving is here to stay.



About The Human Advisor
This podcast is dedicated to changing the conversation from how big a financial advisor's book of business is to how well they take care of their clients and actually help people. There's a new breed of modern advisors who want to make a difference and do something meaningful. And in our series, we're telling their stories.
Watch more episodes.