Your guide to building a $100m RIA
These growth strategies will help you scale your practice rapidly.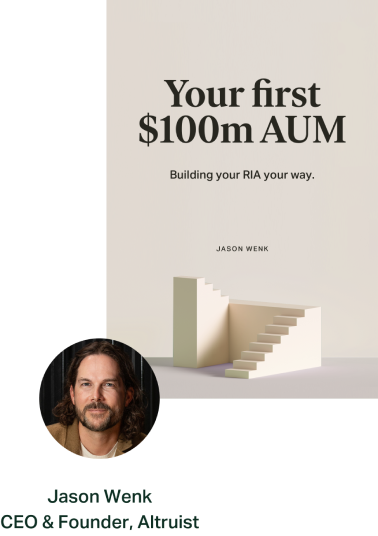 How to get started with voice marketing?
Voice marketing can help your financial practice, in the same way, having a social media presence or having a blog does. It's all about creating consistent content that showcases your expertise, which over time, builds trust with your audience.
Most financial advisors today pair their traditional marketing strategies with ones that are more content-focused. For example, if you were going to buy a digital ad, you might have the URL point back to a landing page with custom content. Or if you mailed out a postcard, you might add a link to your blog which hosts longer-form content.
The bottom line is, when you offer valuable information with your unique approach, your audience is more likely to trust you. The same notion rings true for voice marketing. If you're able to connect with your audience via a podcast while they are commuting, doing the dishes, or exercising, you're able to cultivate a relationship by sharing your content.
Now, starting—or keeping up with—a podcast may sound overwhelming, but it doesn't have to be. Integrating voice into your marketing and approach can be as simple as a mini-podcast or flash-briefing. These are bite-sized episodes, a few minutes in nature, where you can share your thoughts on a particular topic without feeling the pressure to outline an entire episode, host a guest speaker, field questions, and figure out everything that goes into post-production. Instead, you can share a nugget of information on many different platforms to reach a wide audience.
Or releasing briefings on voice-controlled devices gives you the flexibility to share on-demand messages in a way that feels very personal and custom to each listener. For example, imagine your ideal client profile type pouring a cup of coffee in the morning and saying, "Alexa, play the latest update from your financial firm." Your presence is now enjoying a morning brew across the kitchen table from a potential or current client.
The best way to get started with voice marketing is similar to any other strategy—define your niche, figure out what interests your audience, and offer a unique point of view on this topic that leaves your audience with key takeaways or immediate next steps they can take. This formula is how to build loyal fans, who potentially could become loyal clients.
Disclaimer: The views expressed in this video by the participants are solely their own and do not necessarily reflect the views of Altruist Corp or its subsidiaries. No compensation was provided.