Your guide to building a $100m RIA
These growth strategies will help you scale your practice rapidly.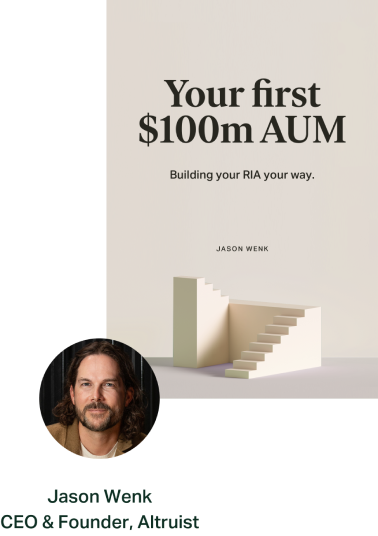 The answer to this question heavily depends on your business model. As many advisory firms become more sophisticated and the industry shifts toward larger groups, firms are making the move to hire a dedicated compliance specialist. More so, with the growing number of financial advisors who have a fee-only model approach to their RIA, the SEC requires a dedicated Chief Compliance Officer (CCO) that is responsible for administering your policies and procedures.
Why is this necessary?
In today's environment of increased regulations, more specialized expertise and sophisticated skills are required—as well as competencies in risk, operations, and technology, and leadership skills.
This is why a dedicated CCO can be an essential member of your staff. This person is responsible for ensuring your firm complies with both internal and external policies and regulations. This may include creating and maintaining a compliance manual, drafting the firm's Form ADV, and ensuring compliance standards are adequate.
While having a compliance officer in your corner sounds ideal, what if you can't quite afford it yet? Is there a DIY approach to compliance that can work for your firm?
As a financial advisor (and business owner), the ability to identify potential risks to your firm is important. Some risks, like client complaints and regulatory reviews, are inherent in the financial services industry. And when it comes to client relationship management, you'll find risks you can control—and those you can't.
The best way to prepare yourself to manage compliance on your own is to invest time and resources into it. This could mean dedicating a few weekends to reading and learning prior to taking the leap to start your own RIA. Or setting aside weekly hours to review content with a compliance lens.
With digital resources like webinars and courses, there are quite a few accessible ways to protect your practice against risks and stay up-to-date on changes in the industry.
Ultimately, the responsibility for compliance oversight rests with you. Based on your business model, time, and resources, does it make sense to hire a CCO or to take on the role yourself? At the end of the day, only you can make the best decision for your firm. Thankfully, there is no wrong decision—just two different sides to a coin.
Disclaimer: The views expressed in this video by the participants are solely their own and do not necessarily reflect the views of Altruist Corp or its subsidiaries. No compensation was provided.