Your guide to building a $100m RIA
These growth strategies will help you scale your practice rapidly.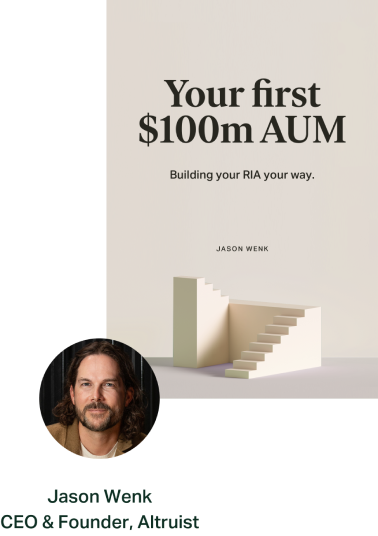 For example, James' clients are used to having simple, streamlined apps for every aspect of their lives, so when it comes to managing their financials, they expect the same ease of access. In this case, James leverages technology as part of his client experience. He thinks about his clients' preferences and how he can deliver from the beginning of their relationship. He's able to use technology to build credibility and trust, which ultimately leads to referrals.
While providing an exceptional client experience is crucial, it's equally important to use technology to reach your prospects where they are. Where does your audience hang out—both online and off?
To expand his reach and connect with a larger segment of his audience, James launched a podcast, "Bulls, Bears, and Bourbon," targeted to his demographic: young investors who want to start creating generational wealth. His podcast aims to take the edge off investing with fun conversations, special guests, current events, investing tips, and more. Instead of stuffy financial discussions, he focuses on innovation-based investing strategies, disruptive technology, and timely topics with fun and interesting people in the industry. His podcast allows him to connect with listeners in a real, authentic way while showcasing his expertise and talent.
Understanding the behaviors of your audience will enable you to provide the best experience. Once you align your strategy with your clients' and prospects' expectations, you'll start to see an improvement in conversions, long-term relationships, and growth.
Like most growth strategies, incorporating technology into the mix is not a magic pill. As a business owner, it can feel like you're constantly pushing new ideas and strategies, yet only seeing minor wins. But then all of a sudden you start seeing victories and it feels like everything is happening at once. When you work really long and really hard, your growth can look like an overnight success to the outside world, but you know that it was years of hard work and dedication that led to it.
So, keep building—every boulder you push up the hill will eventually tip over and start rolling into success.

Disclaimer: Altruist and its affiliates do not give legal advice. The views expressed in this video by the participants are solely their own and do not necessarily reflect the views of Altruist Corp or its subsidiaries. No compensation was provided.