Your guide to building a $100m RIA
These growth strategies will help you scale your practice rapidly.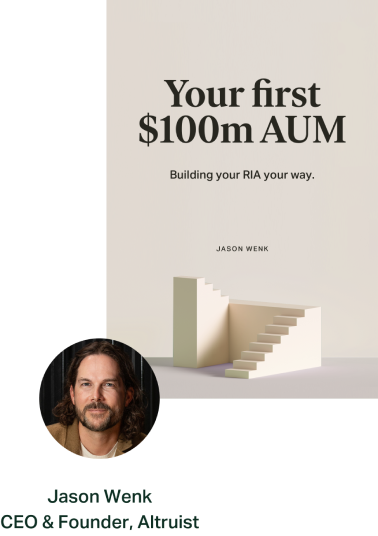 When you're in the growth stage:
Independent RIAs that are roughly in years three to five, are usually in high growth mode. They have proven processes in place, but there are a few things to be wary of when focusing on scaling.
Be careful about distractions. It can be tempting to chase the shiny new object in front of you, but at this stage, it's important to buckle down and focus on taking care of clients.
Improving the client experience in your service model can lead to a better end-to-end offering as well as increase referrals. Is there something in your process that you could improve for a better overall experience? For example, would a personal appointment reminder allow you to provide a human touchpoint in a process that is heavily automated?
Which leads to technology and the value of automation. Leveraging tools that allow you to efficiently run your firm will allow you to focus your time, resources, and energy on the things that matter most.
5 Innovative growth strategies for financial planners
Now whether you're getting started or in the swing of things, marketing tips for growth are always something that you can utilize — or save in your back pocket for when you're ready to use.
Here's a roundup of the five innovative growth strategies shared by Justin and Taylor:
Back to basics: During a volatile phase, like our current situation, it can be easy to get picked up in the whirlwind of attracting new clients. But it can be a better strategy to remain grounded and not take advantage of the timing. Turn to your own client base and have vulnerable conversations about what's happening and how it is or could potentially impact them. By speaking directly — and authentically — you might even see better engagement, conversions, and referrals.
Avoid comparison: It can be easy to get lured into what other financial planners are boasting online about AUM and lightning-fast growth, and feel like a failure when putting your own numbers up against their success. But the reality is what's right for you may not be for them; and vice versa. It's important to stay on your track and focus on your own journey.
Elevate your team: When you're a solo investor, it makes sense to be front and center. But as you grow your firm, give your financial advisors a chance to shine, and grow their own reach. We all grow together.
Collaboration over competition: Growing together also applies to outside your firm. While partnering with another financial advisor might seem counterintuitive, when you learn from and leverage your network, you'll find your path to success much quicker.
Be a financial advisor first: There are a lot of hats financial advisors wear. We have to be marketers, administrators, business owners, and more. But at the end of the day, it's important to show up as an advisor first. Put service first and you'll ensure your clients are happy (which leads to lasting relationships and referrals.)
When it comes to growing your financial firm, there are endless ways to make it happen. The key is to find what works for you and the clients you want to serve, and expand on it. Stay true to your course, seek out your community, and you'll be on your path to success.
About Grow
Grow by Altruist is a show dedicated to bringing business growth advice to advisors, by advisors. I'm your host Dasarte Yarnway and each week I sit down with industry professionals as they share their best ideas around attracting new prospects, building a successful firm, and keeping clients happy. Watch more episodes here.