Your guide to building a $100m RIA
These growth strategies will help you scale your practice rapidly.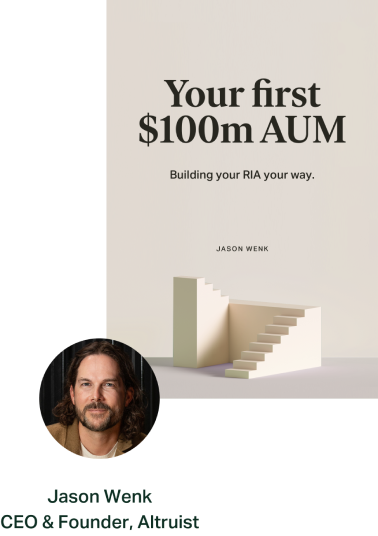 His specialty is equity compensation and tax planning. He helps 30 to 40-year-old professionals, primarily in the startup industry, develop their financial relationships with money. This means asking his clients what their values are, how they want to use their human capital and resources to align themselves to what type of life they want to lead. To be able to work with young professionals and empower them with financial tools to make decisions earlier in life, rather than wait for retirement age.
So it's no surprise that Russell's unique approach to client relationships is his competitive advantage. He intentionally positions their firm in a way that startup folks are familiar with—as a VC for individuals and families. In startup speak, he invests in "early-stage people" and helps them leverage their human capital and avoid making costly mistakes. That cost-saving compounds over time, and Russell continues to help clients navigate and orient through personal and professional decisions.
"We're not going to tell our clients what to do—we trust them to be the experts on their lives. We're going to help them understand the tradeoffs from the financial and tax perspective. If you can help someone understand the levers, now they can make confident decisions."
Since his client base is painstakingly tech-savvy, I asked him about his relationship with technology from an advisor standpoint.
As a young advisor that deals with clients accumulating wealth, he relies on Altruist to deliver a seamless experience to detail-oriented and design-focused clients. With the help of technology, Russell is able to give clients a dashboard they can simply view, or they can dig in deeper and see the level of detail they desire.
His personable approach to giving financial advice to his unique client base is what makes Russell a true unicorn in The Golden City.
Connect with Russell and learn more about Upstart Wealth Management.
About The Human Advisor
Everyone has a story about what money means to them. When someone sits down in your office, it's so much more than doing business. Your client comes to you with some of their core beliefs about success, identity, legacy, and relationship.
The Human Advisor Podcast is dedicated to changing the conversation from how big a financial advisor's book of business is to how well do they take care of their clients and actually help people. There's a new breed of modern advisors who want to make a difference and do something meaningful. And in our series, we're telling their stories.
Learn how we can help you grow
Altruist can help you reduce software costs and increase your productivity at the same time. Learn how we do it.