Your guide to building a $100m RIA
These growth strategies will help you scale your practice rapidly.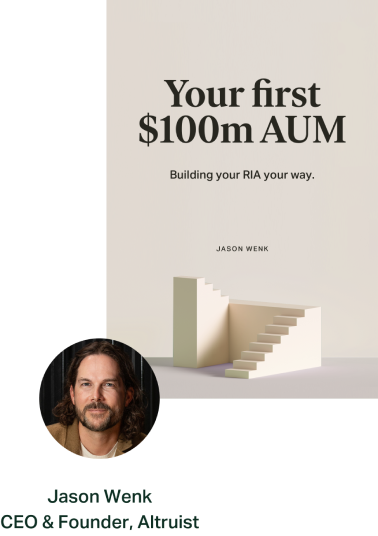 3. Prioritize
There is so much to think about when it comes to personal finance—budgeting, long-term and short-term savings goals, how to save, cash reserves, and much much more. All of this can become overwhelming when you try to do it all and convey it to clients. The old system tried to tackle all of these areas at once, but with agile financial planning instead, we prioritize. Look for the biggest risks and opportunities first to help the client and yourself focus.


4. Flexibility helps you dodge the curveballs
Having flexibility creates options and various tracks you can follow when met with uncertainty. It also allows you to quickly pivot or change gears when met with an obstacle.


5. Communication is key in agile methodology
Have frequent little conversations rather than big ones. Frequent communication allows you to identify risks and make changes as needed.
With Roger's nontraditional path to success, especially for financial advisors, I asked him how he was able to leverage agile methodology across his business. He shared how he found a way to be his authentic self and get his message across to attract the right people through podcasting. But the way he achieved hockey stick growth was to keep pressing on and shifting to meet the demands of his business.
For example, when marketing, it's important to know whom you're talking to—your audience, ideal client profile type, persona—whatever avatar you've honed in on. When you try to talk to everyone, you end up talking to no one. It's a common phrase in marketing, but when you're able to define your specific audience, you'll start to attract people that are thinking about the same issues you have a solution for.
When applying agile practices to your business, it's also important to understand where you are in your own lifecycle. For example, if you just launched your own firm, you're probably in "hunter-gather mode," trying to nail down as many clients as possible. But if you have a more seasoned practice, you might be considering what types of clients you want to serve, and the ways you want to serve them, which may lead you to start thinking about your business as cultivating an apple orchard. The primary difference here is that one approach is here and now, while the other is long-term.
The two ways of working can be done in parallel, it's just understanding that one approach might take a lot of nurturing, time, and resources to mature, while the other approach is paying your monthly bills.
When it comes to marketing, time works in your favor. Keep consistent, keep pushing, and you'll see the seeds you planted mature into success.
Disclaimer: Altruist and its affiliates do not give legal advice. The views expressed in this video by the participants are solely their own and do not necessarily reflect the views of Altruist Corp or its subsidiaries. No compensation was provided.