Your guide to building a $100m RIA
These growth strategies will help you scale your practice rapidly.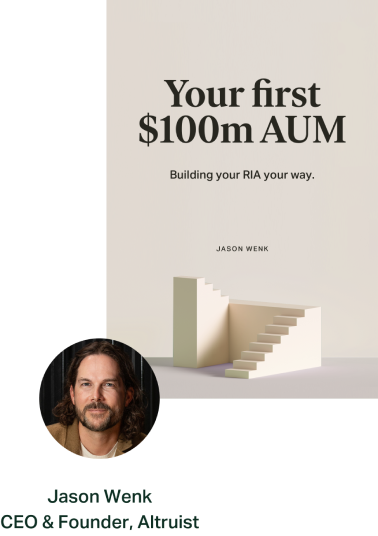 3. Be authentically you
In an industry with so much competition, and so many look-a-like competitors, it can be tough to stand out from the crowd. However, by letting your personality shine and being genuine in all that you do, will actually give you the advantage you need to succeed.
If you do things the way everyone else does, you'll get about the same results they do. So instead, carve out your own way of doing things on your terms.
4. Find your flair
It's common in marketing to be chasing the next trend or testing different channels to find what works. But once you find it, then what? Jason shared his thoughts on consistency and how important it is to keep pushing on what is bringing results for you. Whether that means publishing weekly blog posts, hosting Instagram Lives, or sending thought provoking emails — find the channel that best fits your brand and stick to it. For example, let's say you sent out a direct mailer last year and received a high engagement rate, which ultimately turned into new clients. This year, don't abandon the mailer because "you already did it". Instead lean into what works and stay the course.
5. Automate what you can
When you first go out on your own, you're juggling many roles and responsibilities. From marketing to client engagement to new business acquisition, it's crucial to leverage automation and streamline as many processes as possible. With so many emerging trends and technologies available, advisors today have the ability to automate the mundane tasks of their business so they can humanize and deliver what matters most to their clients.
6. Add value with innovation
Ron and Jason shared their excitement for how technology will elevate financial planning services. It will be a must for leading financial planners to invest in technology, AI, seamless integrations, and APIs in order to stay ahead. More so, you can add value with data and innovation. For example, years ago, how you approached your client's taxes was much different than what it can be today. Tax forecasting tools allow you to not only proactively plan for the year ahead, but can also flag any changes to tax laws that might impact your client. Technology enables more opportunities for you, and smarter planning for your client.
7. Broaden your audience
While you may feel you're only able to serve a certain number of clients, you may be doing yourself a disservice. Are there ways you can utilize technology, people, and tools to deliver your services to a broader audience? There's a largely untapped market in younger clients that will require a different approach and service model than what is currently the norm. Many RIAs are starting to try various fee structures and delivery methods to attract younger clients because eventually the younger generation will also need financial advisors.
In order to put your financial planning firm in the best position for long-term success, it's important to keep tabs on trends and opportunities, and take action when you see something that could help create lasting competitive advantages.
About The Human Advisor
Everyone has a story about what money means to them. When someone sits down in your office, it's so much more than doing business. Your client comes to you with some of their core beliefs about success, identity, legacy, and relationship.
The Human Advisor Podcast is dedicated to changing the conversation from how big a financial advisor's book of business is to how well do they take care of their clients and actually help people. There's a new breed of modern advisors who want to make a difference and do something meaningful. And in our series, we're telling their stories. Watch more episodes.