Your guide to building a $100m RIA
These growth strategies will help you scale your practice rapidly.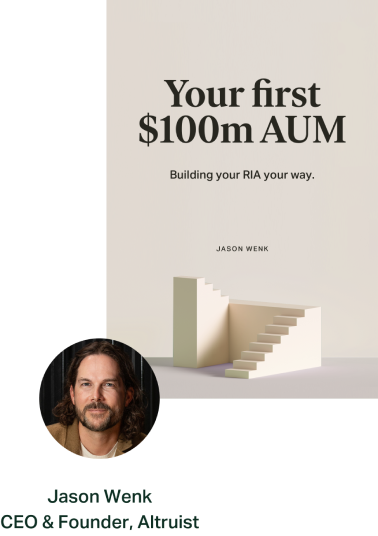 What exactly is the 70% solution?
As Steven explained, the 70% solution is a strategy used by the Marines to judge a situation where one might not have all the information preferred to make the best decision. This could be a scenario where you clearly have the challenge or problem defined, but you simply don't have all the facts.
This rule means you accept that while you may need to pivot and compensate for the missing information as you move forward, you still have the ability to make a good decision with most of the facts.
As a financial advisor, this situation is almost too familiar. From spearheading a growing business to building relationships with clients with complex financial goals, the best path forward is to take steps ahead, knowing you can adapt and change as necessary.
The alternative is getting caught in analysis paralysis, where many advisors find themselves constantly spinning their wheels looking for the perfect answer to solve their challenge. The reality is that most of the time, we don't need all the facts necessary to make a calculated decision. What we do need is a good understanding of the problem and a somewhat urgent need for action. If we make a conscious decision based on limited yet accurate data, we'll probably be on the right track.
So what do financial advisors need to feel confident when applying the 70% solution?
While the decisions you make as a financial advisor won't bear the same weight as a Marine making decisions on the battlefield, the concept of the 70% solution still rings true. Deploying a well-executed plan, even when conditions aren't perfect, can still help you achieve your business growth objectives.
Here are three questions to ask yourself when laying the foundation for the 70% solution:
Do I have at least 70% of the information I need to move forward?


Do I have at least 70% of the resources I need to execute this plan?


Am I at least 70% confident that this plan will succeed?
The crux of applying this strategy in challenging situations is gaining the ability to move forward with what you know and what's available to you. Get the information you can, assemble all the resources available, and feel confident in your decision.
When met with a challenge, the Marine Corp believes a well-executed plan has a better chance of success than doing nothing. Whether you're on the battlefield or at your desk, having a framework to work through complex situations can help you make the best decisions possible to achieve success.
Disclaimer: Altruist and its affiliates do not give legal advice. The views expressed in this video by the participants are solely their own and do not necessarily reflect the views of Altruist Corp or its subsidiaries. No compensation was provided.