Your guide to building a $100m RIA
These growth strategies will help you scale your practice rapidly.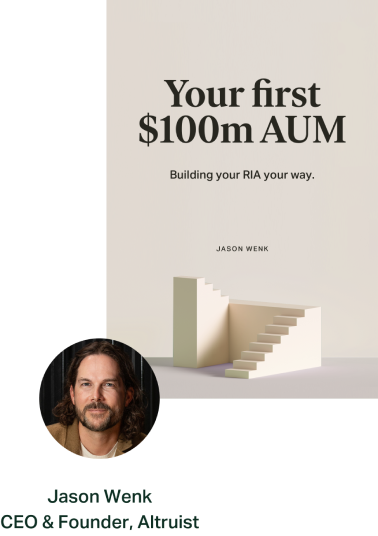 Fast forward to now and Matt still leverages seminars to attract and convert prospects. The only difference is he now has a process in place to move prospects through the funnel in a very efficient manner. In fact, these educational sessions are his top marketing channel with the highest return.
What can financial advisors who are looking to scale their firms learn from Matt? Here's the process he uses to grow his business.
1. Identify your ideal client profile
Instead of trying to be everything to everyone, focus on your strengths. This means being able to serve an ideal client type. Identify who this person is — everything from who they are, where they live, specific challenges, ultimate goals, and more. Then craft your marketing plan to attract this demographic.
As mentioned above, Matt focuses on the pre-retiree market. For him, this segment of the market is the best fit for his services and is one that allows him to stay away from fear-based marketing by providing consistent educationally focused content in his direct mail, digital marketing, and in-person seminars. More so, with a definitive timeline, pre-retirees fall into his marketing cycle at some point, so he is able to lead with education rather than sales tactics.
2. Use a combination of automation and human connection
The best way to build trust is through human connection, but the most efficient way to run a business is with automation. So combine both to best serve your clients. For example, if a prospect self-schedules a consultation via Calendly, confirm the appointment with a personal phone call.
For Matt, his prospects first engage with his firm via one of three ways — seminars, client referrals, or general website inquiries. The human element enters the process after a prospect requests an appointment. He mails a welcome kit before the first appointment which includes information on what needs to be done prior to the meeting. This also sets the tone for a productive session.
3. Deliver a personalized experience in an efficient way
From the first appointment through the life of your engagement, being able to provide your clients with best-in-class service is what will ultimately define your success. The holy grail is being able to replicate that experience in an efficient manner.
Matt uses a "HEALTH checklist" to build a solid foundation with clients during the first appointment. This checklist uses the acronym, "HEALTH" to obtain the six most important facts his firm needs to get started with a custom plan: Household income, Expenses, Allocation, Longevity, Taxes, and Health services. With this approach, he's able to collect all the necessary information he needs to have in order to create a proposal for partnership.
In an industry with a large barrier to entry, financial advisors can use this framework to generate growth, create scalable processes, and deliver personalized service in the most efficient way possible. Most importantly, once your firm has its own playbook in place, it should be a process that can be leveraged by anyone on the team.
About Grow
Grow by Altruist is a show dedicated to bringing business growth advice to advisors, by advisors. I'm your host Dasarte Yarnway and each week I sit down with industry professionals as they share their best ideas around attracting new prospects, building a successful firm, and keeping clients happy. Watch more episodes here.