Your guide to building a $100m RIA
These growth strategies will help you scale your practice rapidly.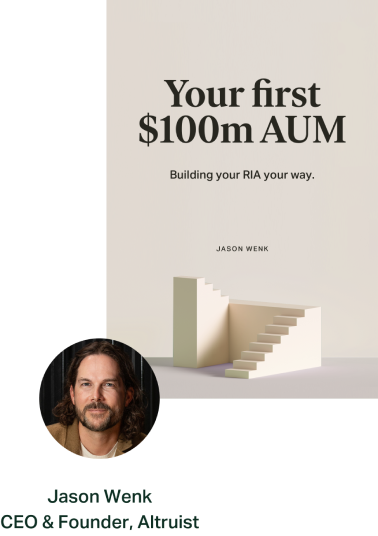 What is a modern advisor?
A modern advisor is one who is a trusted confidant and true partner to their clients. Brian defines a modern advisor as someone who has the following qualities:
Aspirational: Someone who wants to grow—not just their business or profits, but as individuals. They're equally invested in furthering their own growth and their clients' growth.
Adaptive: Someone who understands that the only thing constant in life is change. They roll with the punches and have the natural ability to pivot or change course without disturbing their surroundings.
Authentic: Someone comfortable in their own skin. When you try to be everything to everyone, you end up losing your true self and the opportunity to serve those that align with you. Be there and be present for the people you serve and you'll find yourself amongst a community.
Modern financial advisors play a large role in setting and managing expectations. For example, let's say your client is concerned about market performance. A modern financial advisor might approach this scenario with historical insight, practical wisdom, and simply reassure the client market waves happen.
This advising style typically sets clients up for a much higher level of success with more consistency long-term. More so, modern financial advisors who can manage their clients' expectations are more likely to grow individual relationships built on trust and honesty.
Another facet of the modern advisor is leading with purpose-based planning, not just focusing on money goals. Helping clients distinguish between purpose and goals as well as the implications both have on their financial planning process can help facilitate a strategy to afford a meaningful life.
For example, your client's goal may be funding their child's education or retiring comfortably with dignity. Their purpose might be to create generational wealth or travel with minimal budget restrictions.
For the modern advisor, the ability to align your client's goals to purpose will enable you to create a meaningful plan for their financial future. And for most people, being able to afford a life that makes you happy is the ultimate goal.
Disclaimer: Altruist and its affiliates do not give legal advice. The views expressed in this video by the participants are solely their own and do not necessarily reflect the views of Altruist Corp or its subsidiaries. No compensation was provided.