Your guide to building a $100m RIA
These growth strategies will help you scale your practice rapidly.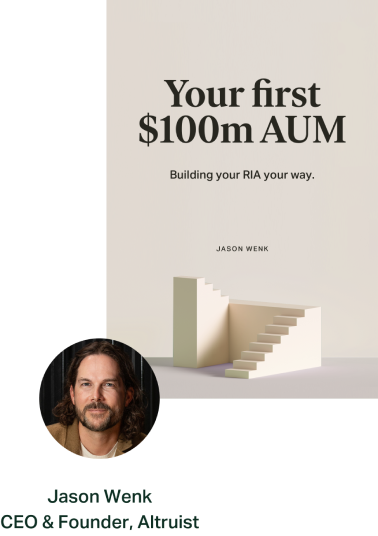 As a champion for technology, how can you bring change to your legacy financial planning firm? Here are 7 benefits to automating manual processes:
1. Clarity into business processes
Automation provides a clear and complete understanding of how processes work and who is involved at different points in the workflow.
2. Less errors, more efficiencies
An automated process minimizes errors, and redundancies that can easily be overlooked when performed manually, resulting in more efficiencies.
3. Better client experience
Everything we do as financial planners is to help our clients reach their goals. So providing a better experience while they're on their path to their financial future should be a top priority.
4. Reduced time and costs
With faster turnaround and elimination of wasteful practices, automated processes facilitate time and cost savings.
5. Better allocation of resources
Since mundane tasks are taken care of with automation, staff can be reassigned to do high-value work or focus on strategic solutions.
6. Continuous optimization
Technology helps you gain deep insight into your processes with analytics and reports, which can help you easily see trends and make data-driven decisions. More so, your firm can start to test and optimize on what works and doesn't work for your unique business.
7. Grow your business
With manual processes, it's very difficult to scale in response to an increase in demand. So whether growth for you comes in the form of AUM, more clients, or work-life balance, automated processes make this effortless.
And adapting technology won't just streamline backend processes; it can also positively impact the front of the house, so to speak. Clients have trusted your firm for so long, that when you introduce anything new there can be a learning curve.
For example, when David introduced his clients to the Altruist platform, there were obvious hesitations to change. How did he overcome them?
"Patience, combined with education, can help remedy some of the growing pains that come with technology and make clients start to see the benefits of digital tools."
The future is now for technology, and whether your firm is considering investing in email marketing software, a CRM, or a digital brokerage platform, the shift in automating manual processes will enable your business to increase efficiencies and engagement, as well as acquire new clients.
Overall, your financial planning firm can go through a complete transformation with the power of technology.
Learn more about David Hicks and Oakmont Advisory Group, by visiting the website.
About Grow
Grow by Altruist is a show dedicated to bringing business growth advice to advisors, by advisors. I'm your host Dasarte Yarnway and each week I sit down with industry professionals as they share their best ideas around attracting new prospects, building a successful firm, and keeping clients happy. Watch more episodes here.