Your guide to building a $100m RIA
These growth strategies will help you scale your practice rapidly.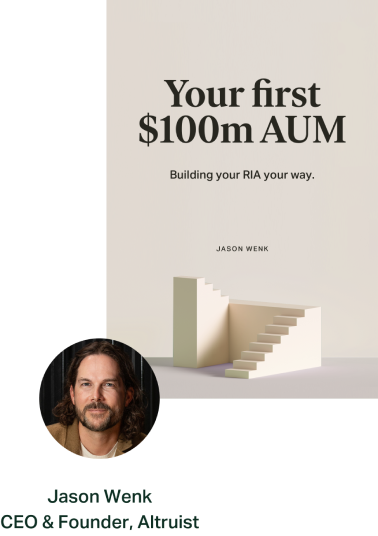 With the legwork done up front, Brian takes all the knowledge shared to develop a thoughtful, intentional process for how the client can use financial planning techniques to build the choice and opportunity they want in their business and life. He focuses on building systems, habits, and automation to ensure the most effective use of time, money, and talent.
With the energy and inspiration of an ideal life—as well as an initial financial plan—in place, Brian and the client work together to help bring this vision to life as quickly as possible. After the execution phase kicks in, he continues to check in on progress, and serve as a thought partner whenever clients feel stuck or need reassurance.
So how can financial advisors build a similar intentional model that works for their specific niche? Brian's best piece of advice is to do your own internal work - know exactly who you want to serve, why you want to serve them, and what you want to create.
Use that lens as you build your business, search for your niche, and determine your own process. That is what will continue to give you the energy and motivation to continue serving your clients to the best of your ability.
Disclaimer: The views expressed in this video by the participants are solely their own and do not necessarily reflect the views of Altruist Corp or its subsidiaries. No compensation was provided.