Your guide to building a $100m RIA
These growth strategies will help you scale your practice rapidly.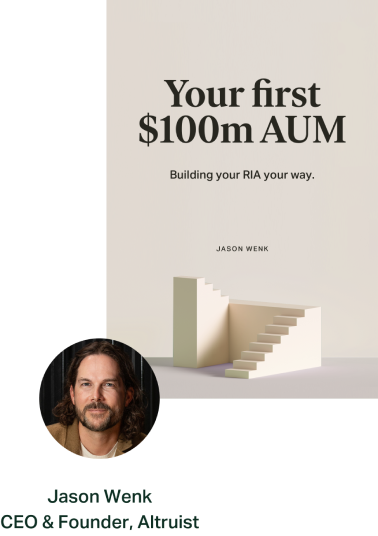 This situation motivated her to become someone who understands where her younger clients are coming from, and she strives to provide strategies to address their questions and concerns.
Simply put, she wants to simplify money management for younger generations and her peers. By approaching her business with a fee-based model, Lauryn can run alongside her clients (no pun intended!)
Younger clients are also looking for a specific kind of advisor. They're looking for advisors who speak their language and understand the life stage they're currently experiencing. The next generation of clients wants financial specialists to serve their specific interests, needs, and future goals.
When you're able to fully understand your client's goals of achieving financial success, you become a true advocate for your client.
More so, depending on what your fee-based model looks like, you can remove barriers to entry for many potential clients. For Lauryn, providing accessibility to younger clients looking to get started with a financial planner is actually what attracted her to the profession.
She offers a variety of services to engage millennials and younger generations with financial planning that incorporates income as a way to get on the path to working with an advisor. This business model allows her clients to self-identify which level of service is right for them.
While financial planners who operate on fee-based models aren't as traditional as firms that take a commission, the benefits of greater client engagement and more valuable relationships can have a profound and lasting impact on your business.


Disclaimer: The views expressed in this video by the participants are solely their own and do not necessarily reflect the views of Altruist Corp or its subsidiaries. No compensation was provided.