Your guide to building a $100m RIA
These growth strategies will help you scale your practice rapidly.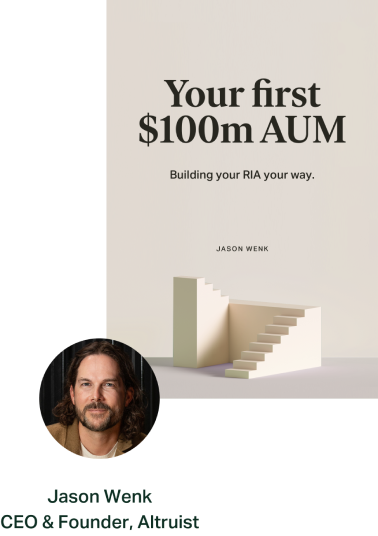 Chelsea Ransom-Cooper
"Listen to your ideal, top-tier clients by creating a client advisory board to continue to grow and scale your business."
More from Chelsea: Zenith Wealth Partners | @Chelsea_CFP

George Acheampong
"Don't try to serve everyone and do everything. Deepen your expertise for who you serve ."..will not only attract more ideal clients, it will also help streamline your operations because you can easily anticipate the needs of your clients if you are serving the same type of person over and over.
More from George: Capital Wize | @georgeacheampongjr
Chloe Moore
"Develop solid, repeatable processes and leverage technology as much as possible. Hiring more people doesn't help when your staff continues with your inefficiencies."
More from Chloe: Financial Staples | @finstaples

Derenda King
"One lesson that I learned is the importance of having streamlined, repeatable processes along with effective delegation. This is critical to growing your business. For some, that may mean hiring and training support staff, using technology to automate your processes, or both. Whether it's onboarding clients, social media posts, email marketing, or lead generation, having a standardized process in place can be the difference between burning out or ascending to new heights. Moreover, doing so enables you to engage in more productive activities designed to grow your business and ultimately reduce the burden of being spread too thin."
More from Derenda: Urban Wealth Management

Samuel Deane
"As an advisor who built an advisory firm from the ground up, the key to scaling my business was building genuine relationships and fostering a community. Although serving a specific niche has benefitted me immensely, the value of having like-minded advisors to exchange ideas with has been invaluable."
More from Samuel: Deane Financial Partners | @samuelsdeane


Thank you to all the advisors who contributed their voices. We are inspired by what you and the community of Black professionals are doing in the industry. We know the financial services space has a lot of work to do to create equity and Altruist is proud to work with and for advisors who are expanding access to financial advice and economic power.
Disclaimer: The views expressed in this post by the participants are solely their own and do not necessarily reflect the views of Altruist Corp or its subsidiaries. No compensation was provided.