Your guide to building a $100m RIA
These growth strategies will help you scale your practice rapidly.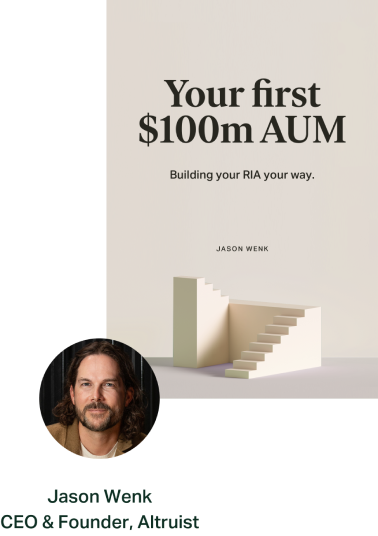 Jason pulled inspiration from Amazon and tried to replicate how the eCommerce giant was able to position themselves high up in the search results rank consistently. Like the eCommerce giant, he used his blog to showcase financial products and accompanying reviews written directly for the consumer. He was able to use his research to develop long-form content, and his blog started to have a very similar ecosystem to Amazon—but with a flair for financial services. Thus, his greatest lead generation tool was born.
And as Jason continued to build this blog and his financial practice, he started to realize that in order to serve as many people as he could, efficiencies of scale were necessary. At the time, automation or digital tools simply didn't exist, and Jason found himself getting bogged down by all the manual work he was doing to communicate with each client and future prospects personally. While relationship building and helping people were the primary drivers of his decision to enter the financial services industry, he struggled to keep up with these aspects while also running a business.
Yet again, Jason leveraged his technology-first mindset to solve this problem by releasing videos to his clients and prospects via email. In a time before vlogging was as prominent as it is today, he was able to use video to get "face time" with people, nurture relationships, and continue working on his business.
Unbeknownst to Jason, he created his own flywheel marketing model for long-term growth and continued momentum. He accidentally discovered that if he made focused content, which was all about retirement savings, delivered via different channels and available at various stages of the customer journey, he was continuously nudging prospects through the marketing funnel.
"I had unknowingly created a top-of-the-funnel mechanism to bring people into the funnel, educate the entire audience at scale, including clients, and then a way to serve the clients virtually."
In a time before live video calls were mainstream in business, Jason could see that the need to serve clients virtually was necessary, especially in financial services. His first virtual call took place on a snowy day in Michigan with clients in their seventies who didn't want to risk getting on the icy roads for a meeting with their financial advisor. They suggested a Skype session, and after the call, Jason immediately fired off an email to his client base offering this service. There was no blueprint for virtual meetings, but Jason was sure that he could map this out to serve his clients better.
So he did. In 2009, equipped with a marketing plan, delivering financial plans at scale, specializing in a niche market, Jason decided to go entirely virtual.
He intentionally focused on having the leanest business possible in order to deliver advice at scale for a low cost. But as he was experiencing growth at a rapid rate, he realized that he could open up the gates by taking the infrastructure of Retirement Wealth Advisors and making it available to other advisors. This way, he didn't have to hire, and he was able to turbocharge their business. He grew this venture, FormulaFolios, to hundreds of employees serving hundreds of advisors and tens of thousands of clients. But one problem remained: cost.
He saw this common problem across RIAs. Even today, with expensive software stacks and pricey custodian fees, financial advisors are forced to keep their pricing high as well in order to remain profitable. And in this dilemma, Jason saw an opportunity to lead change in the financial services industry. Enter, Altruist.
From a young associate in New York City to the CEO of Altruist, Jason's path has been illuminated by his guiding north star: to help more people. He shared with me what motivates him to lean into technology to build a better financial services industry. He's spent the past two decades chasing down the answers to these questions:
How do I broadly get people more access to advice?


How do I lower the threshold for how much money you need to work with an advisor?


How do I lower the cost of entry for getting financial advice?
And he continues to make headway searching for ways to solve these challenges and break down barriers in our industry.
"What matters is what your client thinks of you. Try to have a low information dive when it comes to all the industry stuff coming at you, trying to influence you to feel insecure and do things you don't really want to. Just focus on the clients and doing the simple things that work for you."
About The Human Advisor
Everyone has a story about what money means to them. When someone sits down in your office, it's so much more than doing business. Your client comes to you with some of their core beliefs about success, identity, legacy, and relationship.
The Human Advisor Podcast is dedicated to changing the conversation from how big a financial advisor's book of business is to how well do they take care of their clients and actually help people. There's a new breed of modern advisors who want to make a difference and do something meaningful. And in our series, we're telling their stories. Watch more episodes.