Your guide to building a $100m RIA
These growth strategies will help you scale your practice rapidly.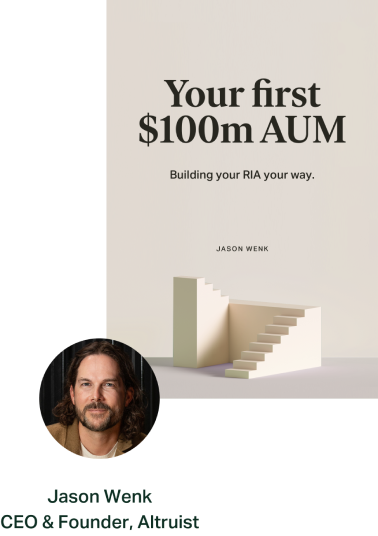 Advisors miss the opportunity to introduce themselves to their potential clients if they're not meeting people where they are. That's why Emily founded WealthVoice, an empowerment platform for financial conversations. In addition to being a voice marketing strategist, she is also a consultant and emerging technology speaker.
I don't just do voice marketing. I try everything. It's important to keep your knife sharp on all these different channels."
When prospects approach Emily about the potential success of emerging marketing channels, like voice marketing, she is just as transparent with them as she is with everything else.
When I hear, 'What's the ROI of voice marketing?' or 'The technology is too new, people don't get it,' I always compare it to social media."
This line of commentary on emerging technologies drives Emily to continue building her brand to solve her customers' challenges. She shares some key learnings for advisors from starting and building her own marketing business:
Don't assume you know what the problem is
Emily shared the lessons she learned in launching a company, and her most significant teachable moment was realizing her solution wasn't actually solving the problem she thought people were facing.
Many times when you think of a solution, you've made an assumption on what the challenge is for others. When I started Wealth Voice, it was pretty presumptuous of me to think I knew what people wanted. I thought I was building an answer to that, but I wasn't solving the right problem."
She encourages entrepreneurs and advisors to understand what challenges they're solving by talking to their audience and understanding what benefits they can provide with their solutions. She warns against pushing your features when people are looking for benefits.
Features vs. benefits: What's the difference?
If you're not a product marketer, it can be easy to blur features and benefits. But the reality is, the two are so different and need to be clearly defined to market your product. While features are typically easier to convey to your audience, it's the benefits that sell. As Emily says, "benefits are what hit people in the heart, not the brain."
How do you discern the difference between features and benefits? Emily dives into features vs. benefits and shares a side-by-side comparison of the two pertaining to voice marketing.
Features:
You can send ten broadcasts a month
It works on desktop or mobile devices
You can produce a voice recording or text to speech
Benefits:
You can get your day back
Reach everyone in one fell swoop in 5 minutes
Connect on a deeper level to create trust and gain share-of-wallet
The best way to understand your product's unique benefits is to survey your customers. Talk to happy customers about why they continue to choose your product and what it means to them. Use these insights to craft your benefits and also drive your development road map. It's a win-win for your conversion rate!
About The Human Advisor
Everyone has a story about what money means to them. When someone sits down in your office, it's so much more than doing business. Your client comes to you with some of their core beliefs about success, identity, legacy, and relationship.
The Human Advisor Podcast is dedicated to changing the conversation from how big a financial advisor's book of business is to how well they take care of their clients and actually help people. There's a new breed of modern advisors who want to make a difference and do something meaningful. And in our series, we're telling their stories. Watch more episodes.