Your guide to building a $100m RIA
These growth strategies will help you scale your practice rapidly.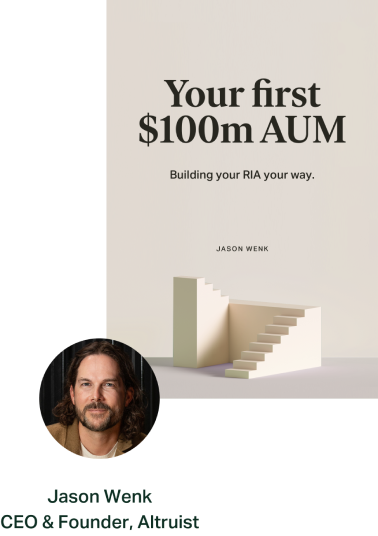 Ultimately, providing exceptional services allows you to offer additional value to existing clients. Instead of spending time and resources on attracting new clients to your firm, what can you do to grow assets by retaining current clients?
For example, let's say you have a client that is retiring. They have spent their career investing in their company's 401(k) plan and are now faced with two options: they can roll their savings into an IRA and manage it themselves, which could incur higher fees, or they could move those assets under your management. Because of the remarkable service you've consistently provided, they decide to have you manage their money and help with RMDs, withdrawal plans, and tax strategy. You're able to provide value to your existing client -- year over year -- and grow your firm at the same time.
Showing your value through a personalized approach is the most cost effective way to grow your firm and build your expertise. Imposter syndrome doesn't stand a chance when you have a plan of attack in place!
To learn more about Cathy and her services, visit Curtis Financial Planning.
About Grow
Grow by Altruist is a show dedicated to bringing business growth advice to advisors, by advisors. I'm your host Dasarte Yarnway and each week I sit down with industry professionals as they share their best ideas around attracting new prospects, building a successful firm, and keeping clients happy. Watch more episodes here.