Your guide to building a $100m RIA
These growth strategies will help you scale your practice rapidly.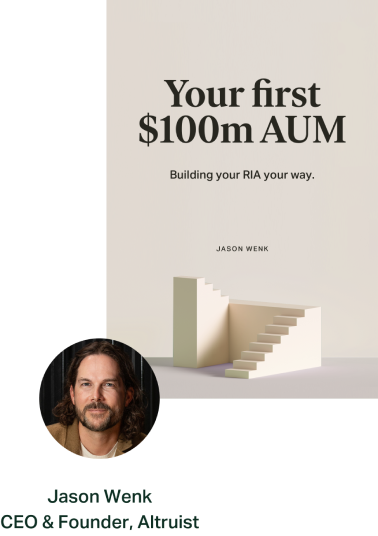 1. Get to know your clients beyond the dollar
Understanding your client's financial situation requires you to go deeper than a general questionnaire. You have to get to know them and learn about their overall goals. This might mean taking on fewer clients, so you can allocate more time to better serve the clients you have.

2. Anticipate what's to come
While a significant part of our job as financial advisors is understanding the market and perspective on what's coming next, we have to remember that our clients do not. Money talk in the media or a glance at a headline can cause severe worry and anxiety about what will happen. As financial advisors, we can help ease and comfort clients by having conversations about what's on the horizon and planning for it.

3. Empathize with compassion
As stated in our professional title, financial advisors tend to float somewhere between life coaches and wealth managers. As advisors, we must experience empathy—good or bad—for our clients. But to build up confidence in our clients, we can go one step further and come from a place of compassion. This sort of empathy is rooted in wanting to help our clients while understanding the depth and breadth of their situation. By doing so, we can take a unique approach to each client and offer truly tailored advice.
In most challenging situations, having a plan and being prepared can alleviate most of the stress. The same goes for your client's financial journey. As you build your relationship, it's important to continue planning and adjusting that plan. Building confidence in your client's financial future isn't a set-it-and-forget-it model; it requires shifting and molding to each new challenge and milestone presented.
Disclaimer: Altruist and its affiliates do not give legal advice. The views expressed in this video by the participants are solely their own and do not necessarily reflect the views of Altruist Corp or its subsidiaries. No compensation was provided.


About Grow

Grow by Altruist is a show dedicated to bringing business growth advice to advisors, by advisors. I'm your host Dasarte Yarnway, and each week I sit down with industry professionals as they share their best ideas around attracting new prospects, building a successful firm, and keeping clients happy. Watch more episodes here.