Your guide to building a $100m RIA
These growth strategies will help you scale your practice rapidly.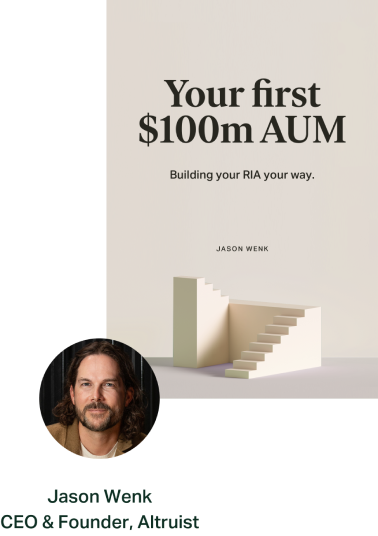 3. Video conferencing app
These days, this might be the most important tool. Being able to effectively communicate with clients and prospects is crucial for success. Again, the most efficient way to leverage technology, in this case, is to prioritize seamless integration amongst the other tools you use, like email and calendars.
Zoom has become a standard, but leaves a lot to be desired from a UI perspective. Unless you're in need of webinar-style meetings with many attendees, it's best to stick with something simple and easy-to-use. Again, Google wins out here for us. Google Hangouts integrates seamlessly with their other products, and is a breeze to setup and send meeting invites out to anyone (no software download needed).
4. Altruist
Okay, this is a shameless plug — but financial advisors are best poised for success when focusing on delivering the best possible client experience. And that's exactly what we do here. When it comes to overcoming the unique challenges facing financial advisors, partnering with a solution that is built specifically to address your needs is crucial for long-term success.
At the end of the day, having systems and processes in place to minimize paperwork and reduce time spent on administrative tasks will allow you to focus on what matters most — your clients and their success. Be the accountability partner that your client needs to reach their financial goals, more efficiently.
To learn more about my guest, Phillip Hanks, visit Black Oak Wealth Management.
About Grow
Grow by Altruist is a show dedicated to bringing business growth advice to advisors, by advisors. I'm your host Dasarte Yarnway and each week I sit down with industry professionals as they share their best ideas around attracting new prospects, building a successful firm, and keeping clients happy. Watch more episodes here.